Bored with Florida, Bush & Gore Party Hearty!
By DAVID FIRESTONE
FROM SUNDAY'S TIMES
Gov. George W. Bush's staff was desperately searching for the candidate Sunday. Imagine their surprise when they found him "gettin' down" with rival Al Gore, celebrating Cindy McCallister's birthday en route to Yakima, WA. "It's about fun... and it's about as far as you can get from Florida," said Gore. "Gimme some cake," chimed in Bush. . Go to Article
• Republicans Say Counts Are Distorting Results
TEXT: Florida Supreme Court | Rulings on Recounts | Florida Law

News Analysis: Whoever Wins,
The Birthday's the Thing
By R. W. APPLE Jr.
FROM SUNDAY'S TIMES
Unless the partisan fighting on both sides relents, these idiots are going to miss a great party. Cindy's birthday, did you hear that: Cindy's birthday! I know I'm supposed to be writing a serious political column for the dang New York Times, but Sunday's Cindy's birthday, for heaven's sake...

Yawn! More Accusations of Misconduct in Absentee Tally
By RICHARD PÉREZ-PEÑA
FROM SUNDAY'S TIMES
Of course they're all crazy, counting ballots and the like. Who ever heard of such a thing on Cindy's birthday. Anybody got a few bucks to buy these guys a clue?

Political Memo: Spin the Battle: Ferocious Fight to Woo Public
By RICHARD L. BERKE
FROM SUNDAY'S TIMES
Forget, for a moment, the court wrangling and the disputed vote counts. Matter of fact, forget it for the whole day. It's Cindy's birthday, and I know there was some serious point to this, but I can't remember it now. So put on a funny hat, get some really, really cool presents, and give a shout out for Cindy's birthday!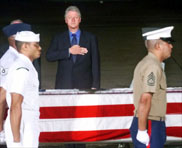 (AP)

President Clinton feels left out of the party, stuck in Vietnam. "I find it ironic that here I am, President, stuck in Vietnam on Cindy McCallister's birthday.. Heck, 25 years ago, I would have done anthing to stay out of Vietnam, and now I choose to go and end of missing a great birthday party. In the words of the great Homer Simpson, 'Doh!'". Go to Article

BUSINESS
Saying Income Tax Is Illegal, Business Owners Quit Paying -- They're Too Busy Eating Cake (2:43 p.m.)



Counting the Vote
---
FLORIDA RECOUNT (as of 1:52 p.m. ET)
Gore
2,910,942
Bush
2,911,872
Bush's Lead
930
Uncertified tally announced by the Florida Secretary of State

AP: County-by-County Vote
MORE HEADLINES